I started out on HondaCRX.co.uk before there was a Project Section and while I have updated bits and bobs about my car here and there, I thought it would be nice to have a thread here showing the transformation of my car.
Appart from a Superchiped ECU, my car was 100% standard when I bought it half way through 2006.
I initially wanted to buy the car together with a close close friend of mine, but he couldn't in the end as he was buying a house.
Original eBay Auction Pictures:


No Tax or MOT, rusted Sills, 4th gear crunch, ripped seats, rusty sunroof, rusted springs, a 16v exhaust and pink stains on the bonnet
I didn't know anything about CRXs or Cars in general to be honest.
I bought the car and took out some money to fix it up. I spend over the odds on many bits, as I just didn't know. But I had good intentions 🙂
The car went off to the bodyshop to sort out the sills
I bought some bits which improved the car alot:
set of Fat 5s, mongoose Exhaust, APC Taillights, Edge 4-1 Manifold, German eBay springs:
After spraying my Fat5s black a Trip to the Ring was in order 😉


(I really do look that stupid sometimes, hahaha)
Seeing as my seats where ripped I really wanted something more comfy.
I had previously test driven an EP3 and really liked the seats.
(This is far from a straight forward mod)


To make money, I had also sold my CRX numberplate 😥
They didn't last long as Jon (AmpleReason) decided to sell his Exclusive Interior 😀

Looks were good, but some more Power was in order.
And who could turn down an offer from Daz to drop a B18 into your car 😉
B18C4 with P72 Head and Skunk2 intake Manifold
I added a 68mm throttle body and DC2 Cams.
I had already fitted a lighter flywheel and new clutch after my trip to the ring

By now I had been bitten by the JDM bug and went looking for some MR-5s.
I had also bought a descent OMP steering wheel, fitted some winddeflectors, made my own LED Taillights and put a screen into my Dash 🙂

And with this Lovely shot I made it into the CRX 2007 Calender 🙂

This was all really good, but my paintwork was still looking shockingly horrible and riddled with rust.
So I knew I had to get a full respray, but before I did that I thought I might aswell try something out.
this is my attempt at a TwoTone colour scheme.
I added Spoon Style Mirrors, and JDMSh!t Lip.
I also tried out some amber sidelights for indicators and made my Indicators into Running lights, which looked pretty sweet at the time.

Off to the Bodyshop my car went again to get a complete respray and a GlassRoof Conversion. 8) 8) 8)
I couldn't resist adding an SiR rear bumper to complete the SiR look-a-like together with a full set of brown glass
My car was at the bodyshop for a long time and in the meanwhile I took the LED taillights out and made black projector headlights!
I also fitted a 1.5x spoiler which unfortunately I never wired up.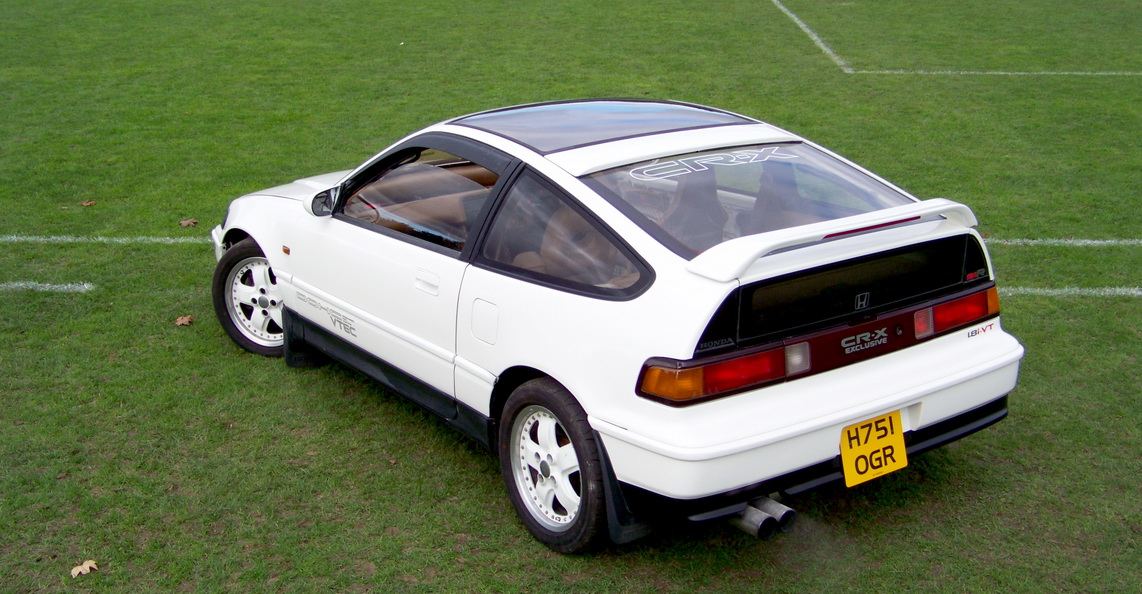 My engine was using Oil and I went about to get it rebuild
I was talking to Marc alot to get advise and get him to do some of the work, but unfortunately this never worked out.
With the help from my housemate the engine came out to get some much needed TLC in the form of a rebore and Weisco pistons.
I had the head pressure tested and replaced the stemseals.

I bought some Rota Beats from the US to get that CF48 look 😉

In the meantime, I had bought a Mugen Copy Bodykit and it was time again for my car to go off to the bodyshop.
John told me that we would spray the kit, but not fit it!
So a few months went by as I drove to the bodyshop every weekend fitting everything.

And then finally came the time for me to fit the painted kit and drive home 🙂
(These pictures don't do it justice, as the weather was really bad)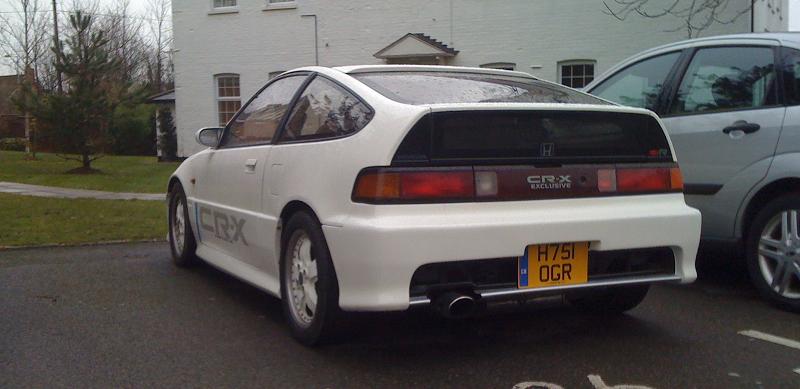 The car is back in the garage now, waiting for a set of OBX ITBs and then I will take some "proper shots" 🙂
List of Modifications
[b]Engine[/b]
– B18C4 block with Wiseco Pistons
– P72 Head with ITR Cams
– Hondata Intake Gasket
– OBX Individual Trottlebodies
– 1″ Break Master Cylinder
– Rebuild Y1 Gearbox with Quaffe LSD
– lightened XTS flywheel
– ACT clutch
– B&M Fuel Pressure Regulator
– blue Magnacore leads
– Mugen Copy Rocker Cover
– polybushed Engine Mounts
– 4-2-1 Exhaust Manifold
– Powerflow decat exhaust
– relocated Battery
[b]Chassis[/b]
– Mugen Copy Bodykit
– Mugen Spoiler (to be fitted)
– Complete Championship White respray
– Removed Aerial
– Eibach 30mm springs
– Yellow Koni shocks
– Skunk2 Front Camber Arms
– BMS fiberglass wings
– black custom projector headlights
– Spook style painted mirrors
– delocked door handles
– complete brown glass
– glass roof conversion
– rear wiper removed
– custom rear hatch spoiler
– SiR rear Sticker
– Mugen MR-R Wheels
– Yokohama Prada Spec2 Tyres
[b]Interior[/b]
– Complete Exclusive Interior
– Black DC2 Recaro Seats
– Dash Matt
– USDM Rear Storage Box
– OMP Steering wheel
– Custom Gear Stick
– Seatbelt Harness
– Clifford Alarm
– dashboard pods
– double din Radio console